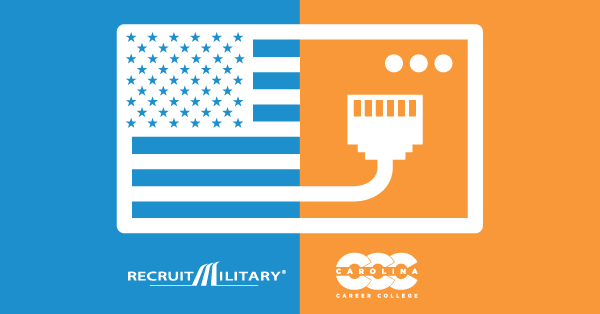 You're Invited to 7 Steps to a Successful Career for Veterans & Active Duty Military Seminar
Tuesday, September 26, 2017 | 6:30 pm – 7:45 pm
5400 South Miami Blvd. #140 Durham, NC 27703
Hosted alongside our friends at Recruit Military
Did you miss your chance to attend our 7 Steps event earlier this month? Well, you're in luck! Carolina Career College and RecruitMilitary are giving you a second chance to attend this presentation with information specifically centered around new careers for veterans and transitioning military.
This is a great opportunity to learn how information technology training can be paired with the skills you've already acquired during your military service for potentially new career opportunities!
Why have we partnered with RecruitMilitary on this event?
RecruitMilitary is the nation's leading veteran hiring company. As a company that takes supporting the individuals who have served our country very seriously AND as a 2017 Military Friendly school, Carolina Career College wants to make sure that we're partnering with a company that has a shared level of commitment. Additionally, RecruitMilitary has a proven track record for connecting quality employers with quality veteran talent.
What should someone expect by attending this event?
Individuals who attend this event will walk away with specific, actionable steps that they can start using the very next day to either get into a new career or grow in a career. They will also learn what employers are looking for and how to give employers what they are looking for.
Senior Vice President of Financial Services at Carolina Career College, Michael Buckenberger, recommends that anyone, no matter where they're at in life, should always "work towards getting the career you deserve!"
Published: